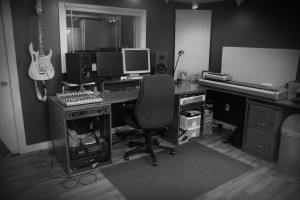 Jesse Andreasen Studios is a project studio located just off the Oval in Milford, NH. Its three rooms consist of a control room, live room and vocal booth. The studio is based around a Protools 12 system capable of recording 16 tracks simultaneously (up to 96 tracks total). This is a great place to produce a song idea, record your band, create audition CD's, do voiceovers, and even sing over a karaoke track as a gift to someone. Visit the media section of the site to hear samples of the various projects we've produced here over the years.
For a detailed list of gear click here.
For more information about rates click here.